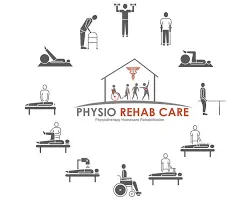 Neurocyte Physiotherapy and Rehabilitation Centre
Physiotherapy and rehabilitation Center : Our Department of Physiotherapy and Rehabilitation helps patients to maximize their quality of life. Our team of physiotherapy works closely with medical specialists helping patients recover from injuries sustained from surgery, illness, aging, disability, injury, or environmental factors.
Physiotherapy provides services to develop maintain and restore maximum movement and functional ability throughout the lifespan. functional movement is central to what it means to be healthy. NeuroCyte is one of the best Physiotherapy and Rehabilitation center.
Physiotherapists can help patients in the following process in Physiotherapy and Rehabilitation Center.
Undertake a comprehensive examination/assessment of the patient/client or needs of a client group.
Evaluate the findings from the examination/assessment to make clinical judgments regarding patients/clients.
Formulate a diagnosis, prognosis, and plan provide consultation within their expertise, and determine when patients/clients need to be referred to another healthcare professional.
Encouraging exercise and movement.
Advising patients on leading a healthy lifestyle.
Implement a physical therapist intervention program.
Determine the outcomes of any interventions/treatments and stay up to date with developments in treatments.
Make recommendations for self-management
 Common Physiotherapy Treatments
Electrotherapy – Energy-based physiotherapy technique in which electrical stimulation is delivered with electrodes.
Range of Motion exercises – To attain full joint mobility and facilitate circulation.
Cryotherapy and Moist Heat Therapy – To reduce inflammation and stiffness and promote healing.
Exercise programs – Muscle strengthening, posture, retraining, cardiovascular strengthening programs.
Manual therapies/soft tissue mobilization. Treating postural problems, sprains, strains, etc.
Geriatric Physiotherapy – Focussing on the complex movement needs of older adults.
Pediatric Physiotherapy – Rehabilitating children after diseases or injury.
Body Weight Supported Gait Training System/(treadmill-training)/Gait Trainer.
This lightweight gait trainer is intended for children or adults with motor disabilities to provide the opportunity to improve their walking ability. Various movement disorders like spinal cord injury, stroke, muscular dystrophies, traumatic brain injury or cerebral palsy, spinal Bifida, developmental disabilities in children can result in the inability to walk independently, necessitating the use of a gait trainer.
9. Sports Rehabilitation – Working to reduce pain, injuries during sports and reintroducing a range of movements after sports injuries.
10.  Women's Health – Focuses on treating conditions related to the female reproductive system, childbirth, prenatal and postnatal care.
Physiotherapy has existed as a type of treatment for dysfunctions and inabilities for a huge number of years.
Do not let the injury stop you!
Caring is Our Passion
Get the best treatment at Neurocyte.